So payday will finally be coming around the corner and iv been eyeing up a few things. I seem to have a weakness for jackets and when i saw this reduced in arc to £30 iv been counting down the days to payday to buy :
Arc red & black Ava leather & fur jacket, Reduced £49.99 £30
I have never been a fan of dresses on nights out and will always opt for shorts or leggings 90% of the time. When i saw this playsuit from Motel i fell a little in love. It looks very sophisticated a something different to what i would normally wear.
Falling in love with this item so much means one thing for me: it probably won't fit me and i will look no wear near as good as the model in this picture, but i can dream.
Motel jet plunge neck playsuit in black: £48
You might now be sat saying "Sam i'm sure on your last wishlist post you vowed you would be more practical, that playsuit doesn't seem too practical"
Thanks for that, i sure did. That's were these vans fit in. I saw these and they look super cute, super comfy and perfect for when spring comes.
Vans Slip on lo pro shoes £47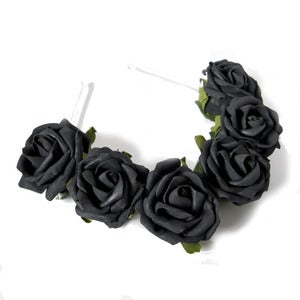 I keep seeing these when i'm staking other peoples blogs. These look amazing, i was a bit indecisive about what colour i liked best but in the end i went for black. This will also be perfect for the festivals.
Crown and Glory - Whole Lotta Rosie Headband - £20